For a reminder of how fortunate we are in Chapel Hill, go visit the latest exhibition at the Ackland Art Museum for a chance to see something extraordinary, "Drawn to Life: Master Drawings from the Age of Rembrandt in the Peck Collection". Rembrandt fans as well as scholars and drawing enthusiasts will appreciate the exceptional Dutch drawings from the 17th century, many previously unpublished and rarely exhibited, over 70 sheets in all. Due to the fragile nature of the drawings and their sensitivity to light this is a rare chance to see these drawings.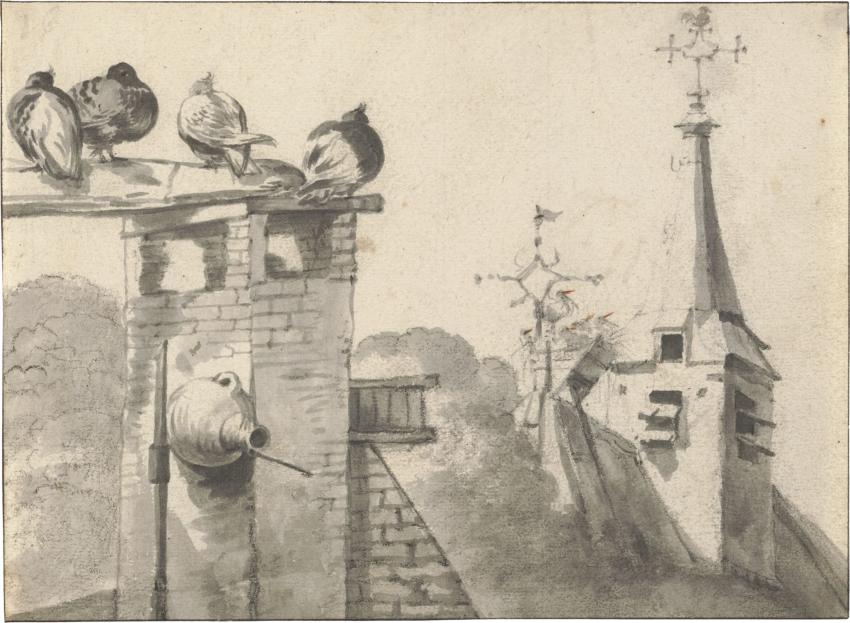 "Pigeons on a Chimney and a Nest of Storks by a Steeple, Cornelis Saftleven, Dutch, 1607-1681" Peck Collection, Ackland Art Museum, 12/08/2021, peck.ackland.org/artworks/pigeons-on-a-chimney-and-a-nest-of-storks-by-a-steeple.
Many of the drawings show examples of everyday life, landscapes, portraits, plus biblical and historical scenes. While a few of the drawings were done by Rembrandt, the others are done by well-known and lesser-known artists of the period.
Drawn to Life is the first major exhibition of the Peck Collection, which was donated by the late Drs. Sheldon and Leena Peck to the Ackland in 2017 and consists of 134 masterworks primarily 17th- century Dutch and Flemish drawings. The Collection (built by the Pecks over four decades) and endowment is valued at $25 million and includes 7 Rembrandt drawings.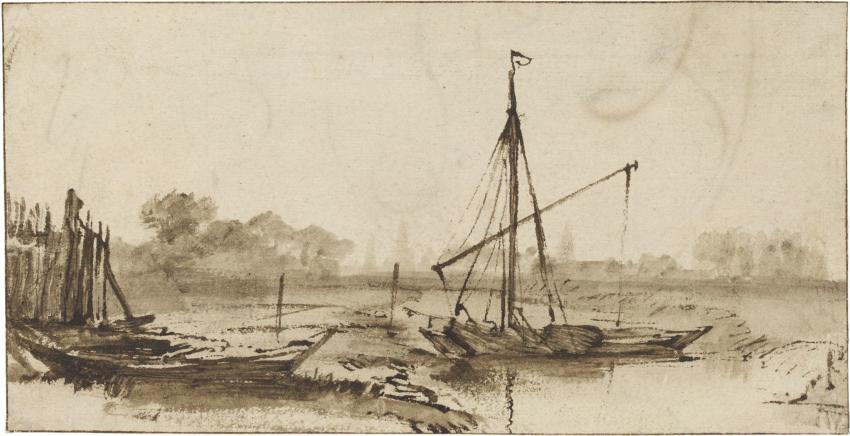 "Landscape with Canal and Boats, Rembrandt van Rijn, Dutch, 1606-1669" Peck Collection, Ackland Art Museum, 12/08/2021, peck.ackland.org/artworks/landscape-with-canal-and-boats.

The exhibition is on display through December 31, 2022 when it will then travel to Amsterdam, home to many of the artists whose work is being shown. Drawn to Life will be on view at the Rembrandt House Museum, a house that was once occupied by the well-known Dutch painter, from March 18-June 11, 2023 and afterwards will return to the Ackland Art Museum when it will be archived for an indeterminate amount of time.

Visit The Peck Collection for a more in-depth view including artworks, artists, albums, and articles.

If you go:

Ackland Art Museum 101 S. Columbia Street Chapel Hill, North Carolina Hours: Wednesday – Saturday 10 am – 5 pm; Sunday 1-5 pm; Second Friday 10 am – 9 pm