AC Hotel Chapel Hill – a European-inspired, frictionless, elegant hotel for the modern traveler
We are so pleased to highlight the newest hotel to open in downtown Chapel Hill.
Located on Rosemary Street and adjacent to Chapel Hill's social district, the AC Hotel Chapel Hill is Marriott's first branded modular construction project on the East Coast. It was an amazing sight to see the modules trucked in, lifted by crane and then stacked on top of each other.
Now complete, its contemporary façade complements surrounding downtown structures, both commercial and residential, mixing modern architecture and local accents to capture the character of our historic college town. Architectural details, such as expansive windows and an exterior corner den with a pass through fireplace encourage visitors to intermingle with local residents inside the hotel's AC Lounge which is designed as a neighborhood hangout. On the menu: small plates by Chef Jonathan Jones (Chef JJ), specialty cocktails mixed with locally produced spirits from Chapel Hill's Top of the Hill Distillery, local craft beer from Carolina Brewery also in Chapel Hill and Mystery Brewing Co. located in nearby Hillsborough. Local products like Chocolatay Confections can also be found in the sundry store.
Artwork in the common areas is all about community. Regional artist Lincoln Hancock was commissioned to create a 96-by-72 mixed media work on canvas that celebrates the rich history of Chapel Hill's Northside neighborhood, which sits adjacent to the hotel. Hancock collected source materials (photos, newspaper clippings, stories) from residents and community organizations; he layered these into an abstracted timeline - a montage of images and text - that serves as the hotel's focal piece of art. One of the women, in the Mid Way photo below, is actually the great grandmother (She is in her 90's now) of an employee at the AC Hotel Chapel Hill.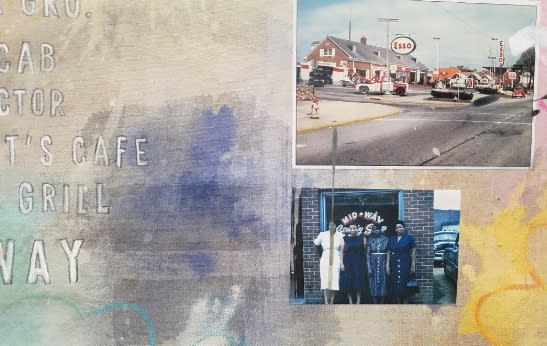 Meet General Manager, Andrew Strickland and Sales Director, Jade Young
Andrew and Jade were on hand throughout the entire build. The actual hotel rooms were stacked where they are standing in this picture. They know this property inside and out. They are on hand to assist you as well as the rest of the AC Hotel Chapel Hill's staff.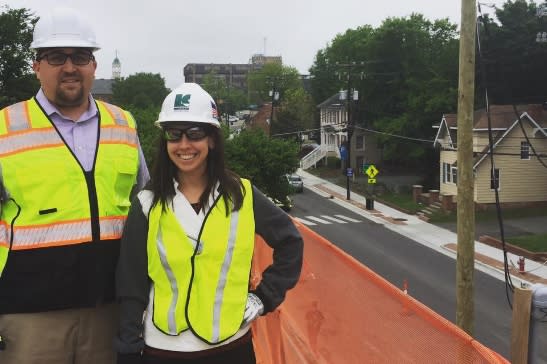 Amenities:
Guestrooms (123) are an oasis of modern design, with sleek furnishings, classic hardwoods and the amenities that matter most like free WIFI, charging ports, wide-screen TV's, and individual climate control
24-hour fitness center
Lounge with full bar and tapas
Breakfast buffet
625 sq. ft. of meeting space / 50 sq. ft. largest space
Business center
Complimentary shuttle runs with-in a 3-mile radius (plenty for exploring UNC Campus, downtown Chapel Hill and the neighboring town of Carrboro).
Location
The AC Hotel Chapel Hill is located at 214 West Rosemary Street. For reservations, call 919-969-2800. Want information on things to do during your stay? We are happy to help - Just walk on over to our visitor's center just a few blocks away!