The fall and winter holidays are a beautiful time of year in North Carolina. It's the time of year when friends and family choose to visit from colder climes.
At the Visitors Center, we get a lot of queries for ideas about what to do with them. Here are a few possibilities: Our Decembers are stunning, golden days beneath the clear Carolina blue skies, and cooler temps perfect for morning walks on our trails and paved greenways.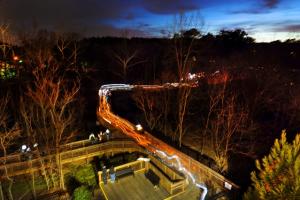 Some walking trails include: Bolin Creek, Riverwalk, and Merritt's Pasture. Endless miles of breathtaking trails are available.
A parade from Hillsborough to Chapel Hill/Carrboro: Sometimes it feels like the entire town Hillsborough is on the National Historic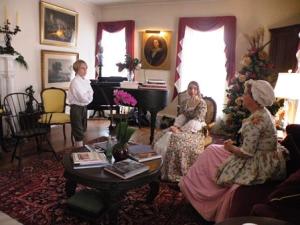 Register. It's a journey into a past lost to many of us. Enjoy that hometown feel; enjoy the parades, the outdoor music and shops open late. Festivities kick-off with the town's Holiday Parade on Dec. 3. In Chapel Hill/Carrboro the parade is December 10, 2016.
Breakfast. The most important meal of the day. Our family loves to go to Elmo's in Carrboro; Ye Olde Waffle Shop on Franklin Street and smoothies at Whole Foods is always fun. La Place in Hillsborough serves a tangy brunch complete with Bloody Mary's.
The Nutcracker: Carolina Performing Arts Presents: The Nutcracker Dec. 3-4. Join Carolina Performing Arts as they celebrate Carolina Ballet's cherished fantasy, The Nutcracker. A holiday tradition not to be missed.
Chocolate: What more need I say? You haven't had chocolate until you've tasted the delicacies at Matthew's Chocolates on Churton Street, in Hillsborough.
Ice skating at the Sportsplex.
Holiday shopping at novelty stores. We can't list them all but our favorites are: Cameron's, Twig, NC Crafts Gallery, Flyleaf Books, Hillsborough Yarn Shop and Southern Season.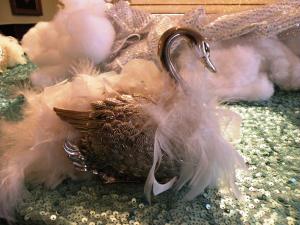 Carolina Inn 12 Days of Christmas and a hot drink at the bar: Now in its nineteenth year, The Carolina Inn in Chapel Hill celebrates the season inspired by the traditional holiday song, The Twelve Days of Christmas.
Hanukah festivals of lights. Less than 10 miles from downtown Chapel Hill. Levin Jewish Community Center Dec. 11, 11 a.m.-2 p.m. Durham, NC. Experience the wonder of Hanukkah at this year's Hanukkah Festival through live music and dancing, delicious traditional Jewish foods and the Shuck, a market place hosting local vendors' holiday arts and crafts.
For a fun evening out, a game at Baxter's Arcade is a blast, and a hot toddy at Crunkleton's is a welcome breather.
For a night out in Hillsborough there's Wooden Nickle, Hot Tin Roof.
Of course, every holiday visitor wants to try North Carolina BBQ. These are dangerous and super-political waters to wade into, so we won't pick favorites. That being said, Hillsborough BBQ, Allen and Sons, The Pig and Mama Dips are always solid bets.
For more information, call our Visitors Center at 919-968-2060 or visit our website at www.visitchapelhill.org
Happy Holidays!